"Who is the peaceful one here?" Putin posed rhetorically while discussing US-NATO expansion in Europe and the possibility of a new Cold War-style global arms race.
On Thursday during his annual press conference, he went so far as to say an arms race is already an accomplished fact, for which he blamed the United States.
He presented Russia's hypersonic weapons program as the "forced" and necessary response, also as he said Washington was clearly responsible for the collapse of the Intermediate-Range Nuclear Forces (INF) and Open Skies treaties.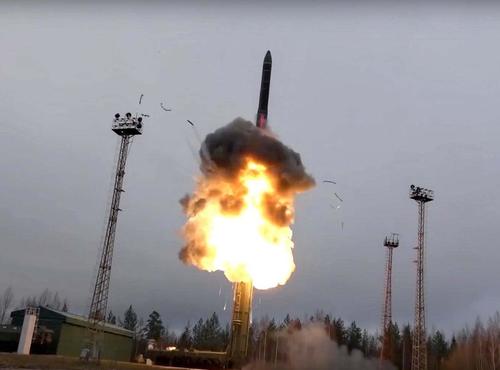 When asked about the likelihood of a new post-Cold War arms race based the recent end of these major arms treaties with the US, Putin said firmly:
"It happened already, and this is obvious."
New START is also on the chopping block, set to expire in February 2021, which the Russian and US sides have been hotly negotiating. Putin reiterated that he's already offered to automatically extend it on a one-year basis with no preconditions, but said "we need some reaction from our American partners." Of course, it's the Biden administration which is soon to take it up. The president-elect has signaled he'll immediately agree to extend it.
Putin was responding specifically to a question about the landmark nuclear reduction treaty (New START) now hanging in the balance:
"The arms race has already begun," Putin said. "After the US withdrew from the nuclear defense treaty, that's exactly what happened."

"Their country is now building an umbrella to protect itself," he added of the United States.
As we noted previously, another interesting exchange with a BBC reporter came when he was asked whether he views Russia as merely "harmless and squeaky-clean" amid worsening ties with the West. Essentially he was asked to what extent Russia is to blame for current tensions.
"Now, about us being harmless and squeaky-clean… Compared to you, yes, it is a fact, we are harmless and squeaky-clean because we agreed to release from an unequivocal Soviet dictate those countries and nations that wanted to develop independently," Putin quipped with his characteristically wry sense of humor.